You see it in the movies often. Someone is holding a loved one in their arms, or holding their hand as they speak their last words. They take that last shallow breath and close their eyes; forever. Saving Private Ryan, Forrest Gump, and Steel Magnolias are a few movies that come to mind that employee this kind of heart wrenching plot twist to invoke emotion from the audience. As effective and moving as these movie tactics are, they pale to capture the pure, raw emotion of experiencing it firsthand.
There are few things that can prepare you for that moment. You feel helpless; confused. You can't quite comprehend how someone you love so deeply can be living and breathing one moment, and then they are gone. No more hugs when you are sad. No more smiles and a kiss on the cheek when you come to visit. No more laughs when you tell a silly joke, or tears when they read your Mother's Day card. Never will you be able to look into their eyes again, hear their voice, or feel their heartbeat.
In an instant they become a memory.
"Michael, my baby Michael
."
I
didn't
know it at the time that those would be her last words, but somehow I think she did. When I arrived at the house she was unable to move from the waist down, side effects of having just suffered a stroke. I took her in my arms and she asked me where my wife and kids where. I told her they were at home and doing fine. She nodded and smiled then placed her hand on my cheek.
"Michael, my baby Michael."
I was 19, but the youngest of her 7 children. I was indeed her baby boy. I could feel the tears welling up in my eyes. My throat became tight. Before I could respond the ambulance had arrived and whisked her away. As my father and I followed the ambulance, those words kept repeating in my mind.
"Michael, my baby Michael."
In the 10 minutes it took to get to the hospital she had slipped into a coma; her body cold and clammy. She was gone, but not legally dead. Machines kept her heart pumping and her lungs breathing for a few days after that. I would sit by her bedside holding her limp hand trying to will her eyes open, but they never did.
"Michael, my baby Michael."
I desperately wanted to hear her speak those words again, but I only hear them in my memories.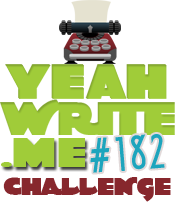 Share it!

Tweet it!

"Like" Defying Procrastination on Facebook!